News
ICLP Arbitration Centre announces the appointment of a New Secretary General 28th June 2013
Contact Us (Address and contact details, Google Map and Inquiry form)
Institute for the Development of Commercial Law and Practic
ICLP Arbitration Centre announces the appointment of a New Secretary General 28th June 2013
Contact Us (Address and contact details, Google Map and Inquiry form)
Institute for the Development of Commercial Law and Practic
Arbitration
Arbitration is a private means of dispute resolution whereby the parties agree to be bound by the decision of an arbitrator of their choice whose decision is final and whose award has the legal force of a High Court judgment or order.
Areas where arbitration has proved especially effective include building and civil engineering contracts; shipping; imports; exports and international trade; foreign investment agreements; commodities trading; partnership disputes; insurance contracts; intellectual property agreements; and rent review in commercial leases. This list is not exhaustive, however, for almost any commercial dispute which can be resolved by litigation in court, can be resolved by arbitration, and there is a widespread increase in the use of arbitration generally.
With its flexible, less formal procedures and an emphasis on confidentiality, speed and reduction of costs, arbitration is the smart solution for domestic and international business dispute resolution.
For an arbitration to take place, the disputing parties must agree to take the dispute to arbitration. In practice, this agreement is often made before the dispute arises and is included as a clause (see ICLP Arbitration Centre Clause) in the commercial contract. In signing a contract with an arbitration clause, the parties are agreeing that their dispute will not be heard by a court but by a private individual or a panel of several private individuals. If parties have agreed to arbitration, they will generally have to go to arbitration rather than court, for , the court cannot ignore such agreement.
Advantages of Arbitration
The principle advantages of arbitration over other forms of dispute resolution (litigation included) are privacy; flexibility of procedure; the ability to use arbitrators who are experts in the field of dispute; cost effectiveness; and enforceability of the award both domestically and internationally. There is a growth in the use of arbitration as a means of resolving disputes both at domestic level and at international level.
Parties to all kinds of international contracts regularly favour arbitration as the only acceptable means of resolving their disputes because it promises independence from the national courts of the other party, among other advantages above mentioned.
Profile
The ICLP Arbitration Centre (Centre) which was set up in 15th March 1996, is a separate body of the Institute for the Development of Commercial More
Courses
Register for Courses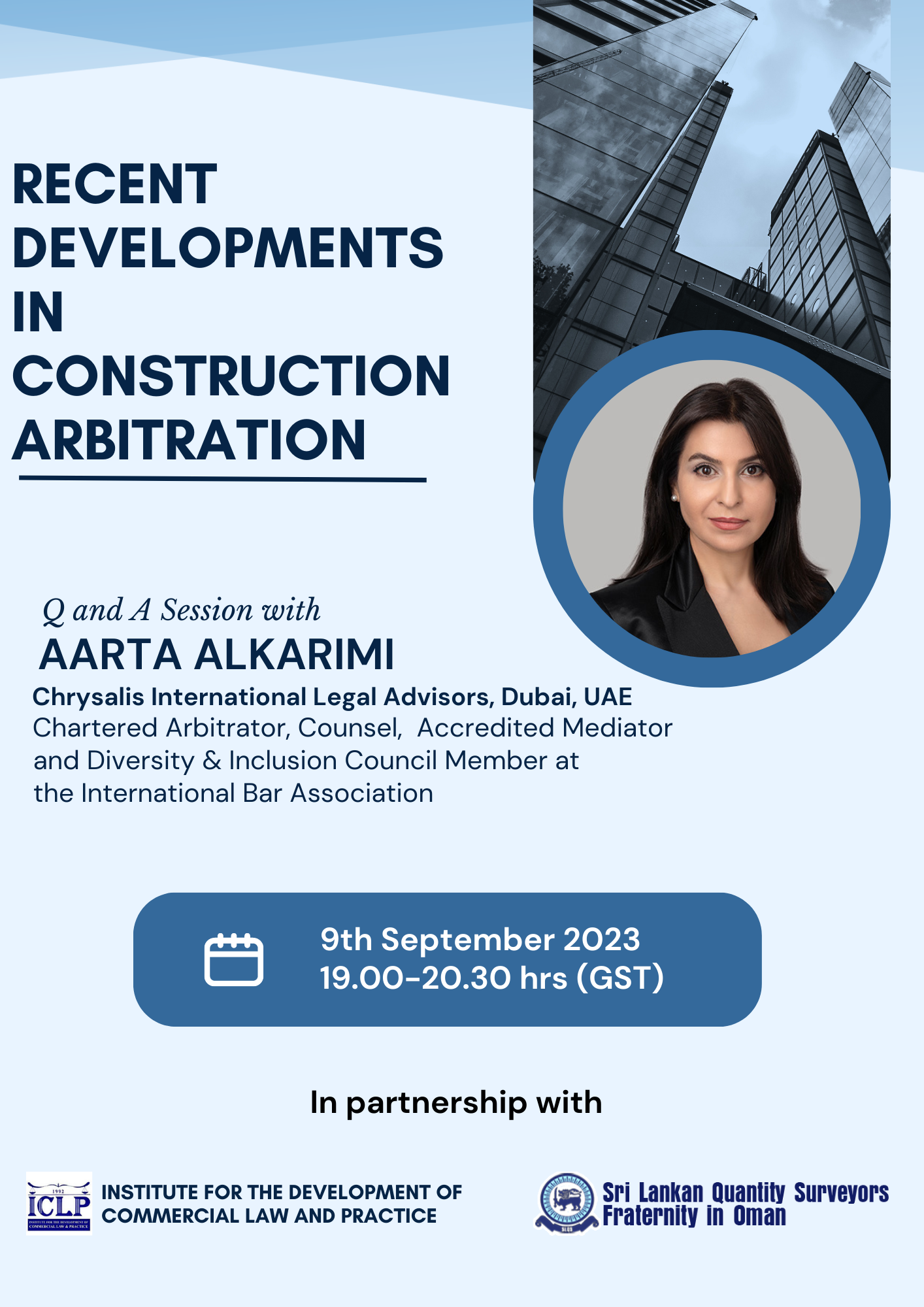 Dear Sir / Madam,
You are invited to a Zoom webinar. When: Sep 9, 2023, 07:00 PM Muscat Topic: Recent Developments in Construction Adjudication Register in advance for this webinar:
https://us02web.zoom.us/webinar/register/WN_AXYzIx2pRwGDuh9hi6raYQ
Approval for registration will be done before the event and you will receive a confirmation email containing information about joining the webinar.